Another great week in the books – let's take a quick look back at the action that was and then onto what's in store for the week ahead.
Promises Made and Promises Kept
Pence was supposed to tweet, and he did.  We got a few panic cycles but nothing too dramatic.  Scavino was supposed to cuck, and he did!  A fantastic finish to the PT market following an incredible disappointing finish to WHT.  And I promised polls in my preview last week, and polls we did get.  We ended up with a solid flip in 538 TA and really promising action for the first week of 0.5-width brackets in 538 ballot.
Georgia delivers
Fantastic markets all around for Tuesday's action, with the AP data entry glitch torching thousands (while earning as much for the quick thinkers).  See my recap for the gory charts.
The Week Ahead in Tweets
(New to tweets?  Check out the guides starting here.)
RDT – Last week I thought he would blow through Cohen news (if you can remember way back then, the Cohen story was that he had a tape) with a single tweet before moving on to other stuff.  That turned out to be true, but the rest of my prediction that he would go on Scavino RT sprees and so forth turned out not to be.  I'm really unsure about his state of mind right now.  Obviously the Witch Hunt stuff continues to enrage him.  But he's also probably happy about GDP and so forth.  Helsinki is fading, and with it the sense of political crisis.  Will he return to the manic tweeting of June?  Or is he still off his game?  B85 (as usual for a B7 in an RDT market) really wants to win, so I expect the first sign of manic retweeting will send it moonward.
WHT/PT – Well, well.  WHT has had such a hot start it may get to the point where even the normal weekend slowdown won't affect it.  But then again I think that every week like this and every week like this seems to have a Monday-morning B7 crash in it.  As far as Scavino-world?  I may have some fun stats and graphs for you guys on that in a post later.  For now, see below for a teaser plot showing how fast PT retweets a WHT or an RDT for those cases where PT does actually retweet either account.  Data here is from the beginning of July through July 26: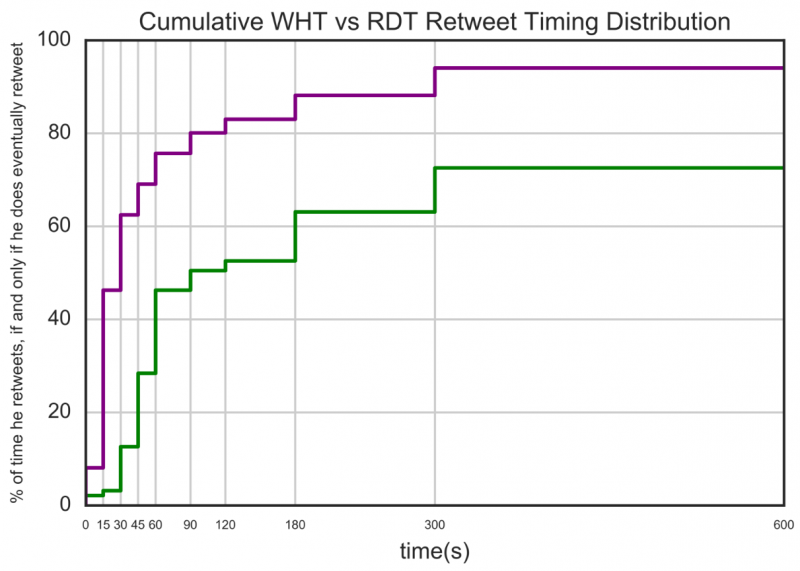 VPT – Unlike last week where everyone knew everything, this is a rather interesting spot.  I don't think it'll be a B7 week.  And I don't think it will be a B1 week, but someone sold me a single 1c share there so maybe I'll root for it.  Good luck with the schedule research everybody.
It's the end of July
That means RCP end-of-month is in play, with drops making things particularly interesting.  Tomorrow morning, perhaps?  Other than that it's down to Ras, Gal, and perhaps a CNN or something like it.  538 TA depends on similar information and 538 ballot should hopefully be quite fun, though I suspect we won't get as many Wednesday polls as we did this week.  We seem to be starting off with the same "low Friday Reuters" dynamic that sent B1 so high last week… let's see what happens this week when there aren't Marists and Quinns and Kaisers out there to keep the average high.
(New to polling markets?  Guide starts here.)
And along with the end of the month comes a few July end-date markets.  Of these, the Flood Insurance Senate passage market looks the most promising.  On a cursory look, I'm guessing this market is mainly down to how long cloture lasts but I guess pay attention to the Democratic and Republican floor calendars to see when the actual vote comes.
Markets to watch, research, and ponder
If there was any great random-market action this past week I certainly missed it.  This is what I'll have my eye on this week:
WIGov – A stunning 13-point deficit reported by NBC/Marist for Scott Walker has thrown this market into turmoil.  We've got some more polling coming here so let's see how that holds up.
Manafort charges/conviction – Rudy Giuliani seemed to hint in an interview last night that perhaps something had happened with respect to Manafort flipping.  Or maybe he was just Rudy-ing.  Would be quite interesting though if a cooperation-based plea deal is reached, given that we're at that last-minute point in the trial cycle (it is supposed to officially begin on Tuesday).
To research:
August 7 primaries – it's about that time to start staking out early predictions in these.  The Conyers-replacement primary looks like the most unsettled for the moment.  Let's also hope we get some markets for the Tennessee primaries next week because I don't think we have any at the moment.
The NATO market – This one just looks like it could be cracked by good research rather than sitting around waiting for publication in January.  But it'll probably stay on my back burner for a while.
To ponder:
Next speaker – Yeah I don't think Jim Jordan is going to get the job done (remember when his price went to 2c on the wrestler scandal breaking?  And now it's gone to 14c on an absurd long-shot bid?).  That said, McCarthy is vulnerable as well and there have been reports of behind-the-scenes jockeying should he fail to coalesce enough support.
House turnover – I own some B9 shares here that I bought without thinking at one point that might be completely trash, so I figure I ought to sit down and figure this one out.  A good exercise for those of you that like to sink your teeth into elections and so forth I imagine.
---
Disclaimer: I probably have positions or intend to take positions in just about all the markets I discuss herein.  You should always do your own research prior to making any investment decision. You should consider my advice and knowledge I share to be fundamentally biased in its presentation and selection by my own financial incentives.  While I do not knowingly lie I certainly do knowingly omit information that I think gives me an edge.